Only In Florida Can Good Samaritan Laws Coexist With Murder Charges For An Accidental Drug Overdose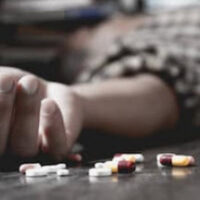 What do you do if a drug buddy of yours shows signs of an overdose, such as unconsciousness, while at your house?  Do you call 911 and tell the first responders the truth, or do you scramble to hide evidence, whether it means flushing your drugs, chucking your computer out the window, or even loading your unconscious buddy into your pickup truck and leaving him on the sidewalk of a shopping center that will open soon, so that, in the best-case scenario, someone will find him alive once you are out of sight.  The law should encourage the first option, and to some extent, it does.  Under Florida's Good Samaritan laws, if you call 911 to seek medical help for a drug overdose victim, you are protected from being charged with drug possession, even if you are under the influence of drugs when you call.  When your goal is to save your friend's life, the first responders will focus on that and ignore the drug paraphernalia, powders, and pills in plain sight.  Under Florida law, it is still a crime to provide illegal drugs to a person who suffers a fatal overdose after taking them.  You might think that accidentally causing someone's death is the exact definition of manslaughter, but Florida prosecutors have, on several occasions, charged defendants with murder for providing the drugs that caused fatal overdoses.  If you are facing criminal charges for giving drugs to someone else, contact a Central Florida drug crimes defense lawyer.
Tampa Man Received Florida's First Ever Murder Charge for Causing a Non-Opioid Overdose
One evening in November 2020, Hanibal Mowery visited his friend Stephen Elbert Bowman at Bowman's apartment in Carrollwood.  Mowery was already under the influence of GHB when he arrived, and the two consumed more GHB together at Bowman's apartment.  Gamma hydroxybutyric acid (GHB) first became popular in dance clubs in the 1990s and today is popular for its athletic performance enhancing effects.  Mowery and Bowman fell asleep shortly after midnight, and in the morning, Bowman found Mowery unresponsive.
Bowman called 911 and admitted that both he and Mowery had consumed GHB the previous night.  When first responders arrived, they pronounced Mowery dead; he was 25 years old.  Since Bowman admitted that, before calling 911, he had poured a GHB drink down the drain and deleted messages from his phone that he and Mowery had exchanged the previous evening, he was charged with tampering with evidence, but he posted his $2,000 bail and was released from jail.  Later, a grand jury verdict led to Bowman, 59, being charged with murder for Mowery's death.  His case is the first in Florida history where someone has gotten a murder charge for causing a drug overdose involving a drug that was not an opioid.
Contact an Attorney Today for Help
A Florida drug offense lawyer can help you if you were trying to do the right thing by getting help for someone who suffered a drug overdose in your presence.  Contact FL Drug Defense Group for help.
Resource:
tampabay.com/news/tampa/2021/08/06/tampa-man-faces-murder-charge-over-fatal-dose-of-date-rape-drug/