Substance Use Disorder Is Common and Treatable, So Don't Let the Court System Treat You Like a Hardened Criminal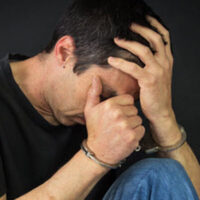 Tough love.  Harm reduction.  Rock bottom.  The Florida shuffle.  One day at a time.  All these terms related to the circumstances and consequences of drug use indicate one thing: addiction is agonizing for people who suffer from it and for those who care about them.  If you are able to put drug use behind you without losing gainful employment, a relationship with a close family member, your health, or your clear criminal background check, you have reason to be thankful.  Criminal charges, often resulting in a guilty plea or a conviction, are a fact of life for many people who suffer from substance use disorder.  A criminal case for drug possession can be part of a downward spiral; anyone who has been to jail can tell you that prospective employers don't always welcome you with open arms, and the problems you had before you went to jail are still there when you get out.  It can also be a new beginning; if you have the opportunity to undergo addiction treatment as part of an alternative sentencing program, you might be able to get the charges dropped, as well as getting the treatment you need to help you achieve long-term sobriety.  A Florida drug crimes defense lawyer can help you transform your drug possession case into the beginning of a better life.
Statistics About Drug Addiction and Treatment
According to the National Survey on Drug Use and Health (NSDUH), substance use disorder is very prevalent among Americans across many age groups, and successful treatment is possible.  These are some key facts from the NSDUH report from 2017, the most recent year for which complete data are available.
More than 3 in 10 American adults report having had problems with illegal drug use at some time in their lives.
Approximately three quarters of people diagnosed with substance use disorder abuse alcohol.
Nearly one million teenagers between the ages of 12 and 17 were diagnosed with substance use disorder in 2017.
Approximately one out of seven young adults ages 18 to 25 suffer from substance use disorder.
Nearly two thirds of Americans currently imprisoned meet the diagnostic criteria for substance use disorder.
Mental illness and being a survivor of physical or sexual abuse or family violence increase a person's risk of addiction.
Only one fifth of the people who need addiction treatment have received it.
In other words, addiction can happen to almost anyone.  Addiction treatment is often a long road, but punishing people who violate their probation after a drug possession conviction as though they had committed attempted murder certainly isn't the solution.  Pretrial diversion and alternative sentencing are more wholesome and compassionate choices, and your lawyer can help you find them.
Let Us Help You Today
Don't let the court system lock you away for years just because you have a problem with alcohol or drugs; long prison sentences for nonviolent offenses do not help anyone.  Contact a Florida drug offense attorney at FL Drug Defense Group to discuss your case.
Resources:
americanaddictioncenters.org/rehab-guide/addiction-statistics
newyorker.com/magazine/2019/10/21/my-years-in-the-florida-shuffle-of-drug-addiction
https://www.fldrugdefensegroup.com/on-driving-while-high-with-or-without-a-medical-cannabis-card/