What is the Punishment for Selling or Possessing Cocaine?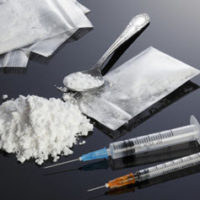 The State of Florida's location on the southeastern corner of the United States has made it a prime spot for massive inflows of cocaine. Especially in the 1980s, cities throughout Florida were flooded with kilos of cocaine. While the days of the infamous Cocaine Cowboys may very well be over, cocaine possession, dealing and trafficking are all still prevalent throughout Florida.
Law enforcement and prosecutors have been cracking down on cocaine users, dealers and traffickers harder than ever before. The criminal charges related to cocaine are especially harsh because it is considered an illicit, Schedule II drug, meaning there is a high potential for abuse and no established medical purpose for it.
Possession of Under 28 Grams of Cocaine
Under Florida law, even simple possession of cocaine constitutes as a 3rd degree felony.
A 3rd Degree Felony in Florida and punishable by a maximum of five years in prison, five years of probation, and a fine of $5,000. Additionally, anyone convicted of possession of cocaine will have their driver's license suspended for 12 months.
Possession of 28 Grams or More of Cocaine
If you get busted with 28 grams or more cocaine, you can be prosecuted for trafficking cocaine, a 1st degree felony. It is worth mentioning that the weight of the cocaine is determined by the total weight of the cocaine including its cut, as opposed to the amount of pure cocaine in the mixture.
An offender found guilty of trafficking cocaine, faces decades behind bars and staggering monetary fines. For instance, 28-199 grams of cocaine carries a minimum prison sentence of 3 years and a maximum sentence of 30 years, with maximum fines of $50,000.
Trafficking in 200-399 grams of cocaine carries a minimum prison sentence of 7 years and a maximum sentence of 30 years, with maximum fines of $100,000.
Trafficking in 400 grams of cocaine carries a minimum prison sentence of 15 years and a maximum sentence of 30 years, with maximum fines of $250,000.
Additionally, the sale of cocaine is a 2nd degree felony, and if you are busted selling near a park, school or certain other areas, you can even face more serious consequences.
Defenses to Cocaine Charges 
Common defenses to cocaine possession include:
Illegal search and seizure
Constructive possession
Lack of knowledge
Temporary possession
Common defenses to cocaine trafficking include:
Illegal search and seizure
Insufficient evidence
Substantial assistance
Entrapment

Don't Hesitate to Call Florida's Top Drug Attorney
In Florida, cocaine offenses can have serious life-long consequences. We recommend hiring a practiced attorney today, especially if you were charged with a trafficking offense.
If you have been charged with possession of cocaine, having an experienced drug defense lawyer will provide you with much better results. The Orlando drug crime attorneys at FL Drug Defense Group, will provide you with the most tactical legal defense.
Skilled attorney Matthew J. Olszewski is not afraid to stand up for his clients and bring up every pertinent legal argument and defense to get you the best result possible based on the specific circumstances of your case. Whether that means participating in pretrial intervention, serving probation, having your charges reduced or dismissed, or winning a not guilty verdict at trial, we will do everything in our power. Your initial consultation is free of charge; contact our Florida drug crime defense attorneys online or call now at 407-775-9052 to discuss our defense strategies for cocaine charges further.
Resource:
tampabay.com/news/publicsafety/the-coast-guard-seized-569-million-worth-of-drugs-the-smugglers-will-be-tried-in-tampa-bay-20190711/