Three Orange County Men Arrested On Suspicion Of Trafficking Fentanyl Analog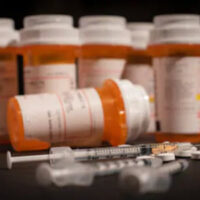 An analog of a drug is a substance that is chemically similar to the original drug and has similar effects, but the chemical composition is different enough that the two substances cannot technically be considered one and the same.  In 1986, the federal government enacted the Federal Analog Act, which automatically categorized analogs of a controlled substance in Schedule I controlled substances.  Therefore, fentanyl analogs are Schedule I controlled substances, which means that they are always illegal.  Meanwhile, pharmaceutical grade fentanyl, produced in licensed laboratories and shipped to hospitals, is a Schedule II controlled substance, used in a hospital setting for post-surgical pain relief, anesthesia, and management of cancer pain.  By contrast, counterfeit fentanyl produced in illegal labs that attempt to make it identical to original fentanyl but don't quite succeed is Schedule I.  A tiny amount of fentanyl or its analogs can kill, so getting caught in possession of even a small amount of it is a legal problem to be taken seriously.  If you are being accused of possessing or selling a fentanyl analog, contact a Florida drug offenses attorney.
Police Intercept Drug Deal at Apopka Gas Station
In 2021, the Drug Enforcement Administration (DEA) and the Apopka Police Department exchanged information about a drug deal that was being planned in the area.  Alejandro Acevedo Luna and Juan Carlos Garcia, both of whom are residents of Apopka, planned to drive to a gas station to sell more than a kilogram of fentanyl or one of its analogs to a buyer, whose name news sources did not indicate.  The investigators found out that Garcia and Acevedo Luna had bought the drugs from Luis Omar Rosa Cotto of Orlando.
Apopka police conducted a traffic stop on Acevedo Luna and Garcia's vehicle while they were on their way to the gas station.  The officers found a package of drugs in the backseat, weighing more than a kilogram.  Meanwhile, an undercover DEA agent arranged to buy half a kilogram of drugs from Rosa Cotto.  A forensic analysis showed that the mixture contained a fentanyl analog called p-fluorofentanyl.
All three men were arrested, but no additional details are available about Rosa Cotto's case.  In January 2023, Acevedo Luna received a sentence of 15 years, and Garcia received a sentence of 10 years.
Defenses to Possession of Fentanyl Analogs
You always have the right to plead not guilty, even if your charges stem from an undercover drug sale.  It may be possible to persuade the jury of your innocence because of a misidentification of the substance in forensic testing or a violation of your rights in the course of your arrest or the criminal proceedings.
Contact FL Drug Defense Group About Drug Possession Cases
A Central Florida criminal defense lawyer can help you if you are being accused of possession of a Schedule I controlled substance, such as an analog of a drug that is sometimes legal.  Contact FL Drug Defense Group in Orlando, Florida to discuss your case.
Source:
theapopkavoice.com/stories/two-apopka-residents-sentenced-to-federal-prison-for-fentanyl-trafficking,29386