After High Speed Chase, Police Arrest Man with Briefcase Full of Fentanyl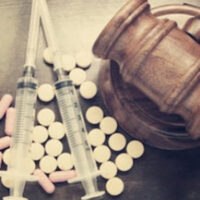 Just how dangerous is fentanyl?  According to the Centers for Disease Control and Prevention, fentanyl is approximately ten times as strong as heroin and 100 times as powerful as morphine.  While, for ethical reasons, it is not possible to test how much fentanyl constitutes a lethal dose, the Drug Enforcement Administration estimates that it is two milligrams, and the New Hampshire State Police Forensic Laboratory estimates that it is three milligrams.  Following the three-milligram estimate, Sheriff Tommy Ford of the Bay County Sheriff's Office, said that the amount of fentanyl seized at a traffic stop on May 13 was enough to kill 78,000 people, almost half the population of Bay County.  If you are a defendant in a criminal case related to controlled substances, contact a Florida drug crimes defense attorney.
Police Chase Suspect by Car and Then on Foot
The trouble began when Amador Mendez, Jr. was driving in Bay County and swerved out of his lane, almost hitting a vehicle being driven by a BCSO deputy.  The deputy pulled Mendez's car over in a gas station parking lot and asked Mendez for his ID.  Mendez handed his Texas driver's license and then drove away at high speed.  He was already on probation for methamphetamine possession with intent to distribute.
Mendez sped down State Road 77, and an alert went out to deputies to be on the lookout for his car.  Lt. Billy Bird was waiting at the intersection of State Road 77 and Edwards Road when Mendez approached.  He was going so fast that Byrd could hardly be sure that the license plate on the speeding car was the one he was looking for, so he gave chase.  When Byrd got close enough that Mendez was sure that Byrd could read the tag, Byrd hit the brakes, but then he drove to a cul-de-sac on Resoto Beach Road and fled on foot.
When Byrd caught up to Mendez on foot, Mendez admitted that he has an outstanding warrant in Bay County.  He freely answered Byrd's questions at first, even admitting that he had a small amount of methamphetamine in his pants pocket.  When deputies searched the car, they found meth pipes which Mendez admitted were his.  When they opened the trunk, though, Mendez's demeanor changed.  The deputies found a briefcase with half a pound of fentanyl.
Mendez faces charges for trafficking in fentanyl, possession of methamphetamine, possession of drug paraphernalia, attempting to elude an officer at high speed, and violating probation.  If convicted, he could face a decades-long prison sentence.
Let Us Help You Today
Even if you are accused of possessing enough drugs to fill the briefcase in Pulp Fiction, you are presumed innocent until you plead guilty or a jury finds you guilty beyond a reasonable doubt.  Whether you plan to plead guilty or fight your charges, you have everything to gain by hiring a Florida drug offense lawyer.  Contact FL Drug Defense Group to discuss your case.
Resource:
nwfdailynews.com/news/20200513/bay-county-sheriffrsquos-office-seize-more-than-half-a-pound-of-fentanyl
https://www.fldrugdefensegroup.com/state-troopers-arrest-two-orlando-men-in-traffic-stop-seize-self-described-bag-full-of-drugs/