Fentanyl Dealer Sentenced To 19 Years After Police Chase Across Indian River County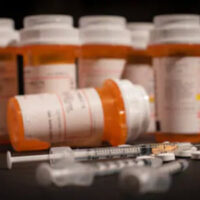 Those social media posts about people needing to be revived with naloxone after accidentally touching a grain of fentanyl powder are not factual, but it is true that fentanyl is so powerful that ingesting a tiny dose can be fatal.  Fentanyl is approximately 100 times as strong as morphine, making it much more potent than heroin.  The reason that it is the number one cause of drug overdoses, though, is because most people who ingest or inject fentanyl do not know that it is an ingredient in the drug mixture they have bought.  Because a little bit of fentanyl goes a long way, drug dealers mix it with more desirable drugs, and with filler ingredients, in order to maximize their profits.  Many of the victims of fentanyl overdoses thought that they had bought heroin, cocaine, or methamphetamine.  In recent years, some Florida drug busts have yielded quantities of fentanyl big enough to kill entire cities of people.  If you have been caught with more fentanyl than one person could possibly consume and survive, contact a Florida drug sales and trafficking attorney.
Defendant Trafficked Fentanyl Between South Florida and Brevard County
In 2018, if not earlier, Thomas Michael Ibarra became involved in a drug trafficking operation that transported fentanyl between Miami and the other cities of South Florida, across the Treasure Coast, and into Brevard County.  The beginning of the end of his drug trafficking activities came when detectives in Palm Bay alerted the Indian River County Sheriff's Office that Ibarra was driving south toward the Brevard County-Indian River County line, and that he was allegedly transporting drugs.  The detectives had tried to conduct a traffic stop on Ibarra's vehicle in Palm Bay, and Ibarra had stopped briefly but then driven off before the detectives could approach his car.  The Indian River deputies attempted to stop Ibarra's car near the Vero Beach exit of I-95.  After deputies observing the situation from a helicopter spotted the vehicle, authorities finally caught up to Ibarra near the Indian River County pool.
A search of Ibarra's vehicle yielded about a kilogram of a drug mixture containing fentanyl and heroin, with a street value of about $150,000; the deputies also found just over $2,700 in Ibarra's possession.  A later search of Ibarra's residence yielded more drugs, plus a firearm.  Prosecutors alleged that in 2018 and 2019, Ibarra, who was 29 years old at the time of his arrest, had sold nine kilograms of drugs.  In October 2020, Ibarra pleaded guilty to possession of a firearm in furtherance of a crime and conspiracy to possess controlled substances with intent to distribute.  In March 2021, he received a sentence of 19 years in prison.
Contact FL Drug Defense Group About Criminal Charges for Distribution of Fentanyl
A Central Florida criminal defense lawyer can help you if you are facing criminal charges for possessing fentanyl with intent to distribute.  Contact FL Drug Defense Group in Orlando, Florida to discuss your case.
Sources:
justice.gov/usao-mdfl/pr/brevard-county-man-sentenced-19-years-armed-drug-trafficking-fentanyl
wptv.com/news/region-indian-river-county/150-000-in-drugs-confiscated-during-indian-river-county-traffic-stop