Ocala Man Pleads Guilty To Possession With Intent To Distribute After Police Find His DNA At The Crime Scene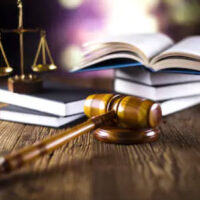 In early 2019, Glenn Edward Davis, Jr. of Ocala was 32 years old, and he already had 14 felony convictions on his record; the Department of Justice did not say what the felonies on his record were or how much time, if any, Davis had served in prison.  Because of his criminal record, he had a lifetime ban on owning firearms and ammunition.  Therefore, when an officer from the Ocala Police Department conducted a traffic stop in 2019, Davis knew he was in trouble, and the gun was the least of his worries.  Davis fled on foot after stopping his car and before the officer could get out of the police cruiser.  He managed to elude the police, who searched his abandoned vehicle and found methamphetamine packaged for sale, a loaded handgun, and Davis' driver's license.  Davis got caught in July of the same year, driving a different vehicle, but this time the police caught him when he attempted to flee.  This car also had a loaded handgun and methamphetamine packaged for distribution, as well as heroin, MDMA pills, and fentanyl.  In June 2021, Davis pleaded guilty to drug possession with intent to distribute and possession of a firearm by a convicted felon.  In January 2022, he was sentenced to 17 years in prison.  If you are facing criminal charges after police found a stash of drugs in your car, contact a Florida drug sales and trafficking attorney.
Should You Plead Guilty in Your Drug Case If There Is DNA Evidence?
Glenn Davis, like all defendants in criminal cases, had the right to plead not guilty and to have an unbiased jury decide his innocence or guilt.  Why did he plead guilty, then?  Most defendants plead guilty, especially if there is compelling evidence against him.  In this case, an investigation identified DNA evidence on the gun and matched it to Davis's DNA.
While it is not possible to fake DNA evidence, and while DNA testing has exonerated dozens of wrongfully convicted people, just because police found your DNA on illegal items, it does not been that a conviction after a trial or a guilty plea are your only options.  First, you must ask whether the police had the right to search your vehicle and find the bag of drugs with a few of your skin cells on the outside.  If the police pulled you over and searched your car just to pick on you and justified their actions with flimsy excuses, your lawyer may be able to argue that the evidence is inadmissible in court.
Contact an Attorney for Help
The Fourth Amendment protects against illegal search and seizure.  A Central Florida criminal defense lawyer can help you if you are facing criminal charges for drugs discovered at a traffic stop.  Contact FL Drug Defense Group in Orlando, Florida to discuss your case.
Source:
justice.gov/usao-mdfl/pr/career-offender-sentenced-more-seventeen-years-federal-prison-possession-firearms-and