Police K9s Find Drugs Where Police Want Them To Find Them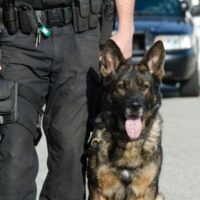 There is a reason that dogs are called man's best friend.  For every cat person who cherishes that cat that merely tolerates them, there are at least two dog people who appreciate the unconditional loyalty that only dogs can give.  One of the reasons that domestic dogs have been successfully trained to assist humans in so many occupations is that the animals form such a strong bond of trust with their human colleagues that they are willing to follow the humans' instructions even in situations that would normally frighten a dog.  Dogs learn to follow the subtle cues of the humans closest to them, racism and all.  Police K9s are no different.  The dogs do not have an independent sense of justice, which is why there are no K9 jurors; they are just following cues from human cops and doing what they have been trained to do.  Drug charges resulting from a K9 search do not always mean that the evidence against you is persuasive beyond a reasonable doubt or that the police have conducted all the procedures correctly.  If you are facing drug charges after a police K9 searched your car, contact a Central Florida drug crimes defense lawyer.
Police K9 Finds 907 MDMA Pills in Car of Men Visiting From North Carolina
In retrospect, the summer of 2020 was the perfect time to go on a road trip; after months of stay-at-home orders, people were fed up with being at home, but air travel still felt risky.  In August, Patrick Russell Allen and Jelani Omar Burwell traveled from North Carolina to Florida in Allen's Nissan Altima.  A Florida Highway Patrol trooper pulled them over for the most trivial of reasons, namely that they were not wearing seatbelts and that the Altima was following the car in front of it too closely.  The trooper decided that the men looked nervous, and he called for a K9 unit to search the car for drugs.
A K9 named Titan searched the car and found 907 pills, which, according to a statement published by the FHP, contained MDMA, a synthetic drug popularly known as ecstasy or molly.  Allen and Burwell were charged with drug possession with intent to distribute, trafficking in synthetic drugs, and illegal use of a vehicle to traffic drugs.  MDMA remains a Schedule I controlled substance, with no legally accepted medical uses. Although it was first synthesized for purposes of treating psychiatric illnesses, and a growing number of physicians support its use for treatment of clinical depression and PTSD.  Outside of a medical setting, it is best known as a rave drug, especially associated with the rave scene of the 1990s.
Let Us Help You Today
You were not the only person driving 11 miles per hour above the speed limit on the interstate; a Florida drug offense lawyer can help you demonstrate that the traffic stop that led to your arrest was unfair.  Contact FL Drug Defense Group for help with your case.
Resource:
tampabay.com/news/crime/2020/08/29/two-men-arrested-after-k-9-finds-907-mdma-pills/