Kissimmee Man Pleads Guilty To Cocaine Trafficking Conspiracy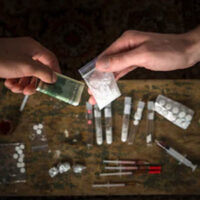 Although public opinion has largely shifted toward the belief that sentencing someone to life in prison for drug crimes is cruel and unusual punishment, long prison sentences, including life sentences, remain a possibility for people who are convicted of trafficking or distribution of large quantities of illegal drugs, especially if the defendant has prior convictions.  No matter how serious the charges against you are, you have the same rights as any defendant in a criminal case, including the right to have a professional lawyer represent you in your case.  Whether your arrest was for something as minor as smoking weed in a part of Florida that has yet to decriminalize it or as major as trafficking in fentanyl, you have nothing to lose and everything to gain by contacting a Florida drug offense lawyer.
Defendant Sold Cocaine on Credit to Co-Conspirator in Jacksonville
From late 2016 until his arrest in 2018, Eddie "Macho" Martinez-Marquez of Kissimmee was involved in a drug trafficking operation where he would make semimonthly shipments of cocaine to a co-conspirator in Jacksonville for $27,000 per kilogram.  The participants in the conspiracy used couriers to transport drugs and money between Orlando and Jacksonville.  Most of the shipments were between one and two kilograms, and Martinez-Marquez sometimes sold the drugs to his co-conspirator on credit.  According to a June 2021 press release from the Department of Justice, Martinez-Marquez, 32, pleaded guilty to distribution of more than five kilograms of cocaine and possession with intent to distribute more than five kilograms of cocaine.  His sentencing as not yet been scheduled, but his sentence could be as little as the mandatory minimum of ten years in prison or as much as life in prison.
Is It Possible to Avoid a Mandatory Minimum Sentence?
Despite the growing movement against them, mandatory minimum sentencing laws for many offenses remain on the books in Florida and elsewhere.  When a jury convicts a defendant of an offense that carries a mandatory minimum sentence, the law prohibits the judge from handed down a sentence less than that.  Many mandatory minimum sentences are associated with three-strikes laws, where a long prison sentence (in some cases, a life sentence) is the only option after being convicted three times of the same crime.  In general, pleading guilty gets you a lighter sentence than being convicted at trial, but the judge does not have the option to be lenient in the case of crimes with mandatory minimum sentences, no matter which plea you enter.  Instead, your best choice is often to have your lawyer try to negotiate a plea bargain that gets the charges against you reduced from something with a mandatory minimum sentence to a different offense that does not have a mandatory minimum.
Contact Us Today for Help
A criminal defense lawyer can help you if you are facing criminal charges of possession of cocaine with intent to distribute.  Contact FL Drug Defense Group in Orlando, Florida to discuss your case.
Resource:
justice.gov/usao-mdfl/pr/kissimmee-man-pleads-guilty-conspiring-distribute-kilos-cocaine